The '79 PIPERS More Airplane for the Dollar. All Model Performance Chart (1979)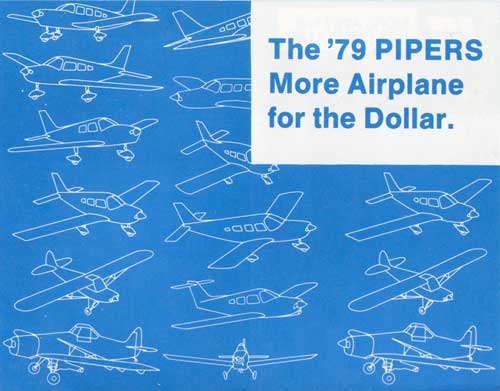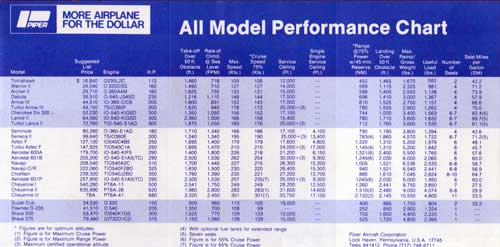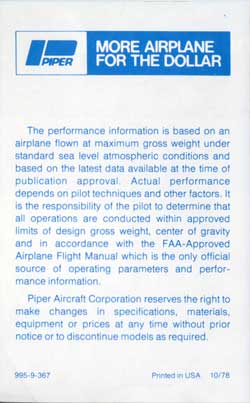 The performance information is based on an airplane flown at maximum gross weight under standard sea level atmospheric conditions and based on the latest data available at the time of publication approval.
Actual performance depends on pilot techniques and other factors.
It is the responsibility of the pilot to determine that all operations are conducted within approved limits of design gross weight, center of gravity and in accordance with the FAA-Approved Airplane Flight Manual which is the only official source of operating parameters and performance information.
Piper Aircraft Corporation reserves the right to make changes in specifications, materials, equipment or prices at any time without prior notice or to discontinue models as required.
Download the 1979 Piper All Model Performance Chart (Microsoft Excel 2003)
1979 Piper: More Airplane for the Dollar
All Model Performance Chart
Model
Suggested List Price
Engine
H.P.
Take-off Over 50 ft. Obstacle (ft.)
Rate of Climb @ Sea Level (FPM)
Max. Speed (Kts.)
*Cruise Speed 75% (Kts.)
Tomahawk
16,840
0235L2C
112
1,460
718
109
108
Warrior II
24,040
0 320D3G
160
1,490
710
127
127
Archer II
29,710
0 360A4M
180
1,625
735
133
131
Dakota
39,910
0-540-J3A5D
235
1.216
1,110
148
144
Arrow IV
44,510
10-360-CIC6
200
1.6
831
152
143
Turbo Arrow IV
49.15
TSI0360F
200
1,620
940
178
172
Cherokee Six 300 .
52,030
10-540-KIG5D
300
1,350
1,050
156
152
Lance II
64,060
10-540-KIG5D
300
2,360
1,000
166
158
Turbo Lance II
72,760
TIO-540-S1AD
300
1,875
1,050
189
176
Seminole
80,260
0-360-E 1AD
180
1,710
1.34
168
166
Seneca II
99,640
TSIO360E
200
1,240
1.34
195
190
Aztec F
127.12
IO540C4B5
250
1.695
1,400
179
179
Turbo Aztec F
147.925
TIO540C1A
250
1,695
1.47
210
210
Aerostar 600A
179,700
10-540-KIF5
290
1,400
1.8
226
218
Aerostar 601B
205,200
10-540-51A5(TC)
290
2,500
1,530
262
254
Navajo
208,540
TIO540A2C
310
1,700
1.445
227
215
Navajo C/R
222.06
TIO540F2BD
325
1,630
1,500
230
220
Chieftain
239,320
TIO540J2BD
350
1,780
1,390
235
221
Aerostar 601P
257,800
10-540-51A5(TC)
290
2,500
1,530
257
235(7)
Cheyenne I
540,280
PT6A-11
500
2,541
1,750
249
249
Cheyenne II
635.89
PT6A-28
620
1,980
2,800
283
283(1)
Cheyenne Ill
TBA
PT6A-41
680
2,320
2,450
301
301(1)
Super Cub
24,520
0 320
150
500
960
113
100
Pawnee D-235
41,510
0 540
235
1,350
700
108
99
Brave 300
59,470
I0540K1G5
300
1,525
770
129
123
Brave 375
79,460
10720D 1CD
375
1,150
1.06
139
129
All Model Performance Chart (Part 2)
Model
Service Ceiling (Ft.)
Single Engine Service Ceiling (Ft.)
'Range @ 75% Power w / 45 min. Reserve (NM)
Landing Over 50 ft. Obstacle (ft.)
Max. Ramp / Gross Weight (lbs.)
Useful Load (lbs.)
No. of Seats
Seat Miles per Gallon (SM)
Tomahawk
12
452
1,465
1.67
582
2
42.2
Warrior II
14
589
1,115
2,325
981
4
71.2
Archer II
15,000
598
1,400
2,550
1.138
4
73.9
Dakota
17,500
696
1,410
3,000
1,367
4
57.9
Arrow IV
17,000
810
1,525
2,750
1,157
4
66.6
Turbo Arrow IV
20,000 + (3)
780
1,555
2,900
1,262
4
70
Cherokee Six 300 .
17,100
744
1,000
3,400
1,563
6-7
82.4(5)
Lance II
15,400
780
1,710
3,600
1,632
6-7
89.7(5)
Turbo Lance II
20,000+(3)
712
1,760
3,600
1,535
6-7
81.1(5)
Seminole
17,100
4.1
790
1,190
3,800
1,394
4
42.6
Seneca II
25.000 + (3)
13,400
783(4)
1.86
4,570
1,722
6-7
71.2(5)
Aztec F
17.6
4,800
1,320
1,310
5,200
1,979
6
48.1
Turbo Aztec F
24.000 + (3)
17,000
1,145(4)
1,310
5,200
1.842
6
45.7
Aerostar 600A
21.2
6.15
1,321(6)
2,400
5,500
1.765
6
57.6
Aerostar 601B
30.000 + (3)
9.3
1,245(6)
2,030
6,000
2.06
6
60
Navajo
26.3
15.2
1,005
1,521
6.536
2,533
6-8
58.7
Navajo C/R
26,400
15,300
940
1,521
6,540
2,441
6-8
56.9
Chieftain
27,200
13,700
885
1,610
7,045
2,824
8-10
64.7
Aerostar 601P
25.000 + (3)
9,300
1245(6)
2,030
6,000
1,950
6
60
Cheyenne I
28,200
12,500
1,260
2,441
8,750
3,850
7
27.5
Cheyenne II
31,600
14,600
1,510(2)
2,480
9,050
4,074
6-8
29.9
Cheyenne Ill
33,750
17.1
2,132(2)
2.145
10,550
4,800
11
33.5
Super Cub
19,000
---
400
885
1,750
804
2
32.2
Pawnee D-235
---
252
850
2,900
1,324
1
---
Brave 300
12
705
1,650
4,400
2,220
1
---
Brave 375
15
525
1,720
4.8
2.366
1
* Figures are for optimum altitudes
(1) Figure is for Maximum Cruise Power
(2) Figure is for Maximum Range Power
(3) Maximum certified operational altitude
(4) With optional fuel tanks for extended range
(5) Seven seats
(6) Figure is for 55% Cruise Power
(7) Fiaure is for 65% Cruise Power
Piper Aircraft Corporation
A Bangor Punta Company
Lock Haven, Pennsylvania, U.S.A. 17745
Publication: 995-9-367 | Printed in USA | Oct 1978
GGA REF: BPPAC-005-1979-C-FLY